This article deals with helping you to study and determine the THREAD ID information for various products.
Take a look at the photos below that have ID descriptions on & with them.
IBC = Intermediate Bulk Container, also referred to as; Pontoon, Palleton, Pod or, TOTE.
U.N Std Dimensions: 1200mm high x 100cm W x 120cm deep. weight 60 to 65kg.
The cage is a light gauge galvanised tube steel.
The Bladder is made of thin 3mm HDPE = High Density Polyethylene and has NO integrity without the cage.
The expected life is 16 to 20 years outside before crazing, (UV oxygenation), which hardens & destroys the plastic.
**NONE are designated POTABLE (for drinking water).
'Food Grade' does NOT mean Potable. (Drinking) Some Food Grade contents can be concentrated & hazardous such as acetic acid.
Some Clean EX Food grade IBC's are ok for water transportation.
Abbreviations Used
O.D = Outside Diameter = max Diam across threads.
P = Pitch = distance between thread peaks.
BSP = British Std Pipe.
Buttress = Coarse thread (ACME Course Thread is flat topped)
NOTE***All pipe thread sizes are designated by the PIPE INSIDE Diameter…  confusing huh?
                                     **FOR IDENTIFICATION PURPOSES THE MAXIMUM OUTSIDE DIAMETER OF THE VALVE THREAD IS USED**
So, the max thread diameter across for a Fine / BSP 50 / 2″, thread will be 58-60 mm, the pitch [distance between top of thread centres] is about 3mm – with about 13 threads [about 20mm of thread showing], lets call this one BSP60.
There is ONE other fine, BSP63 thread on IBC's that have a Black Camlock 'waist' behind the thread, this measures 62.5 to 63mm across and has only about 10mm of thread with 2mm pitch = BSP63CL.
To confuse matters even more there is another Camlock valve with about 10mm of thread available that needs its own shallow cap…. let's call this one BSP60CL.
The O.D MUST be measured on waisted/camlok valves as there are TWO sizes ONLY, one, as above is 63mm the other is 58 to 60mm which is the same as regular BSP50 2″ fine thread.
**THE TWO MOST COMMON IBC THREADS ARE:
1.
The Coarse / Buttress /S60x6 / NW50 thread, this has 6mm pitch and usually only three threads [about 25mm] showing. These measure between 59 – 61mm max diameter across. The '50' is internal diameter = NW50
2.
The Coarse ACME thread which has squared off  flat topped threads with a 55mm max OD.
There are three other, uncommon coarse
BUTTRESS threads manufactured;
one is 75mm across, [NW75 or S75. ( 3″ )
The other is 99mm (4″)across, [NW99 or S100]. ( 4″ )
And a USA 88mm but have never seen one.
There is also a large 80mm BSP Valve for which I also make adaptor fittings.
SEE THE PHOTOS FOR EASY ID. I have captioned them. These are all available to purchase.
There are MANY types, at least 6 & they are hard to ID. I Never get used valves.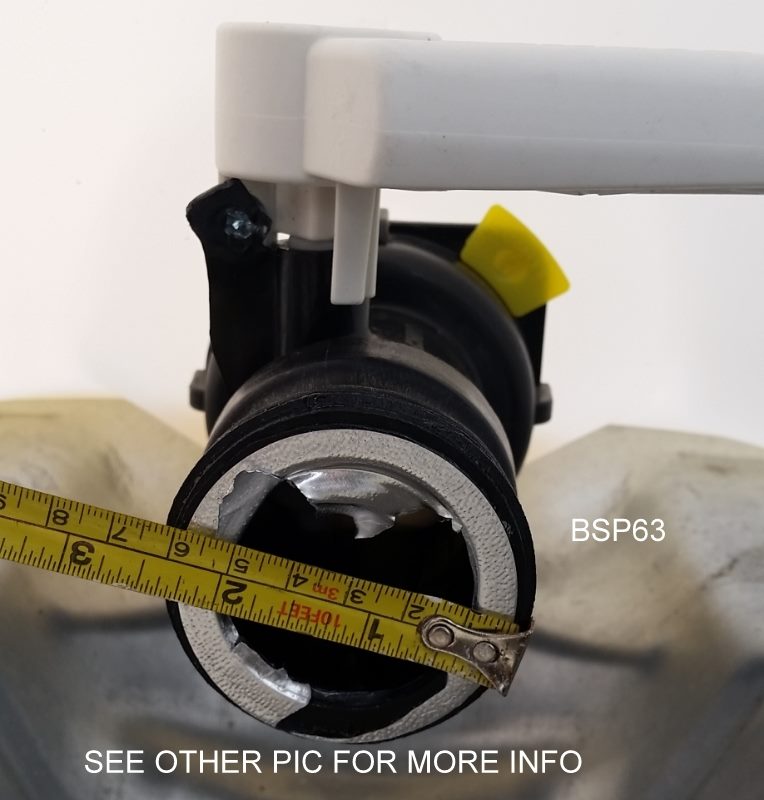 Above: Maximum OD is measured not internal bore diameter, Will be either 60mm or 63mm  Worn threads may measure a tad less.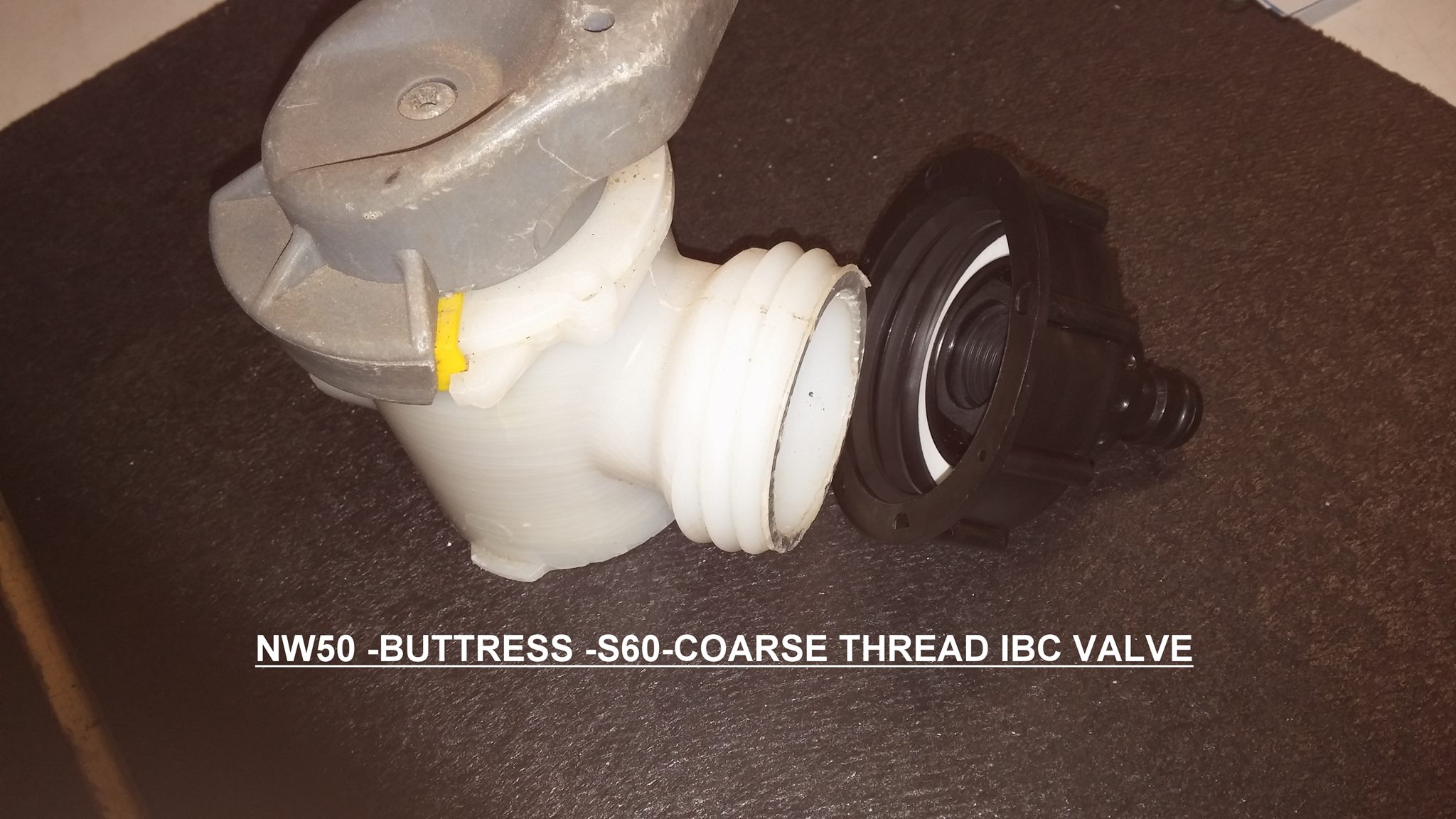 Above: NW50 Buttress Thread with 3 threads showing & a 6mm pitch. Max OD from 58 to 60mm
Above:
This ACME coarse thread has flattened tops so will measure about 55mm but all NW50 adaptors will fit.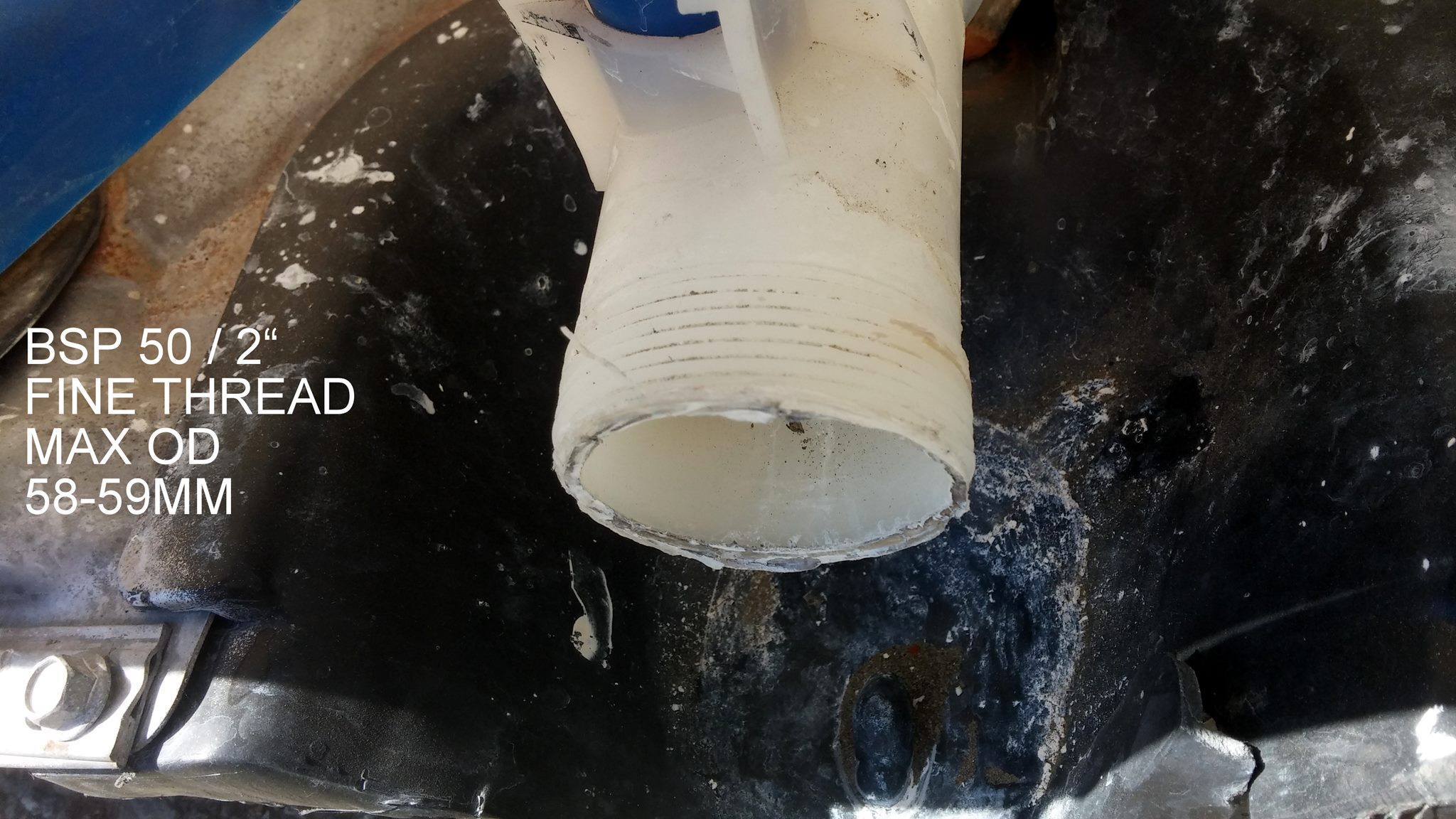 Above: The common BSP50 /2″ thread. But Not a common IBC valve. BSP50/60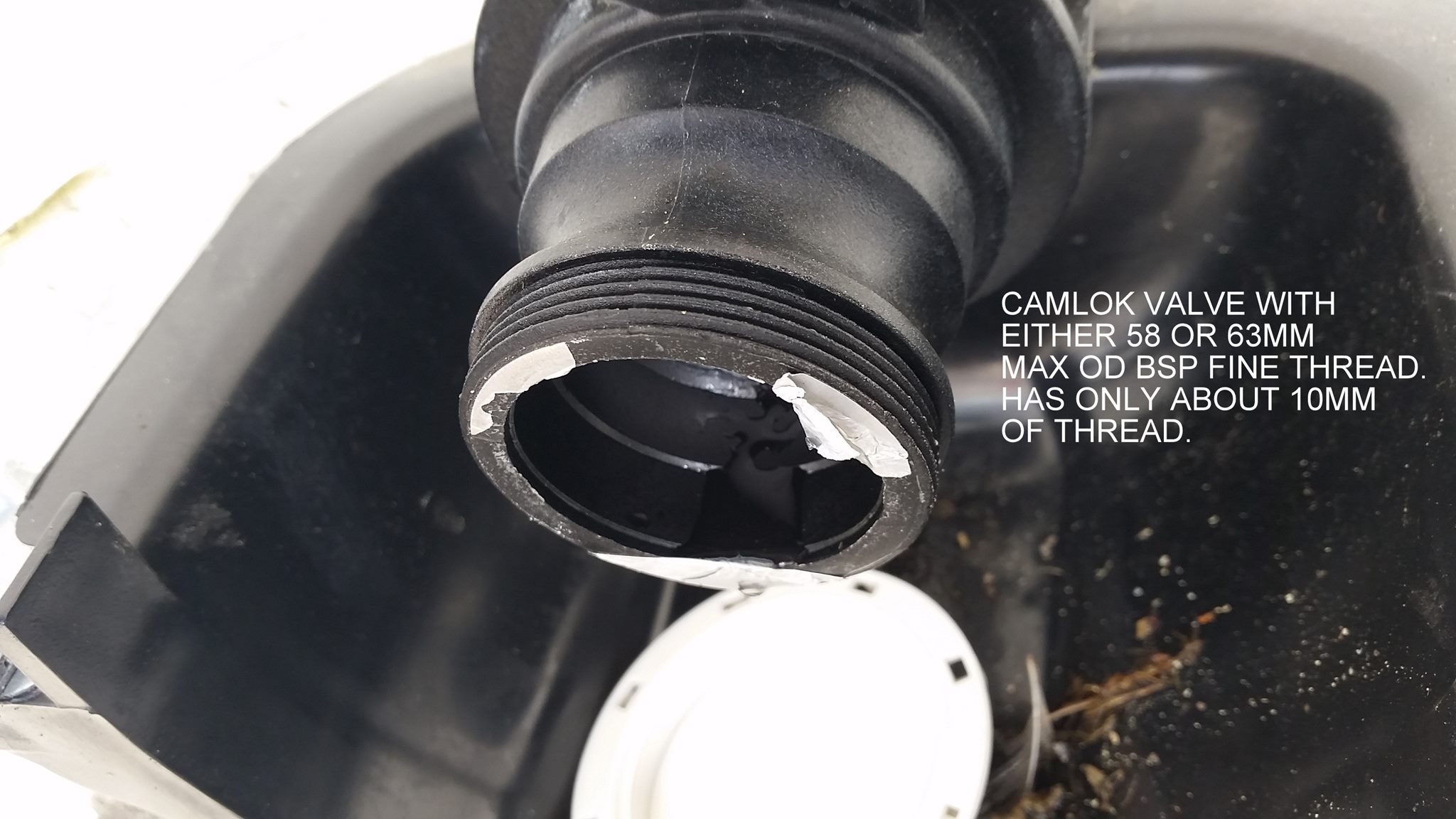 Above: You can clearly see the CAMLOCK waist groove beyond the thread. This one will be the BSP60CL thread.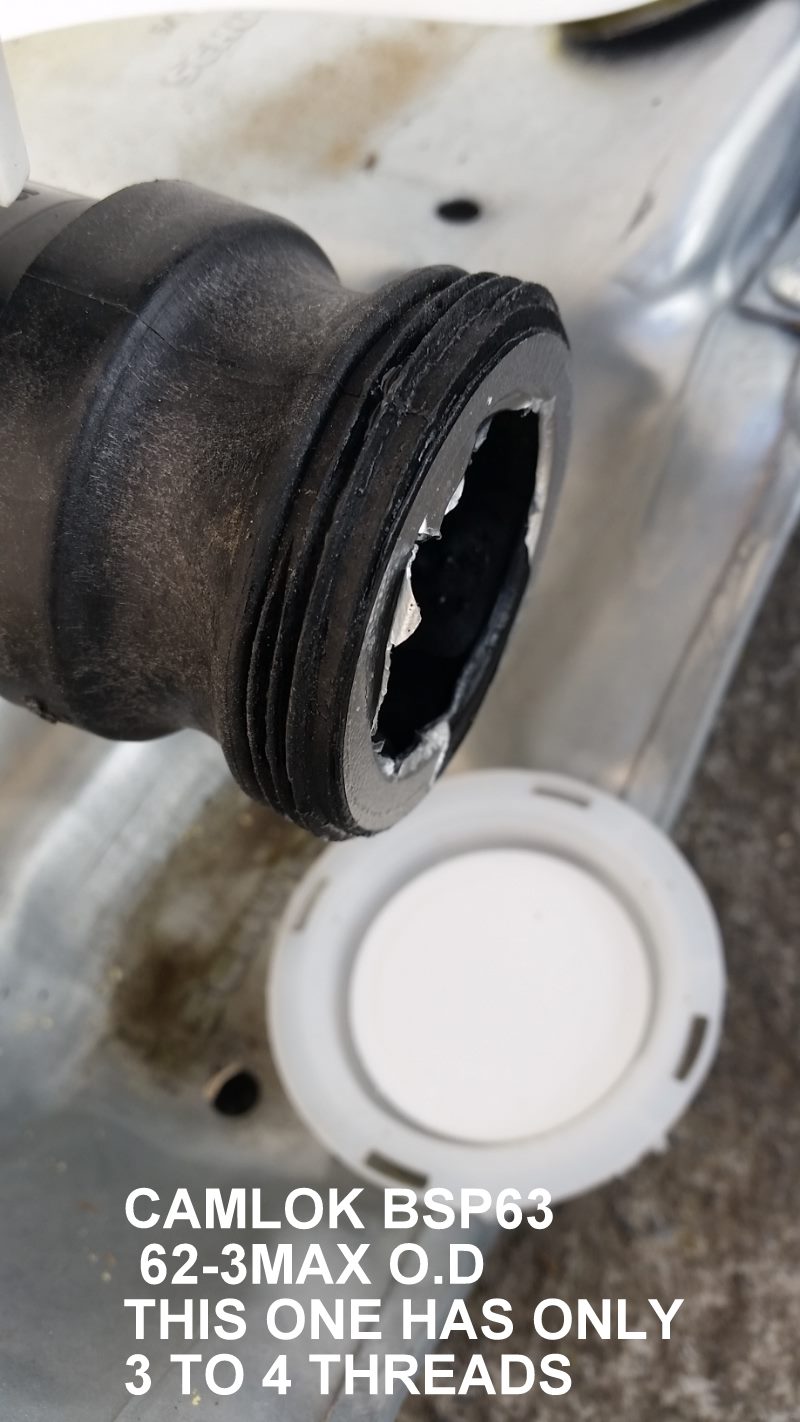 Above: BSP63CL. Compare it to the one above; it has less threads & no lip.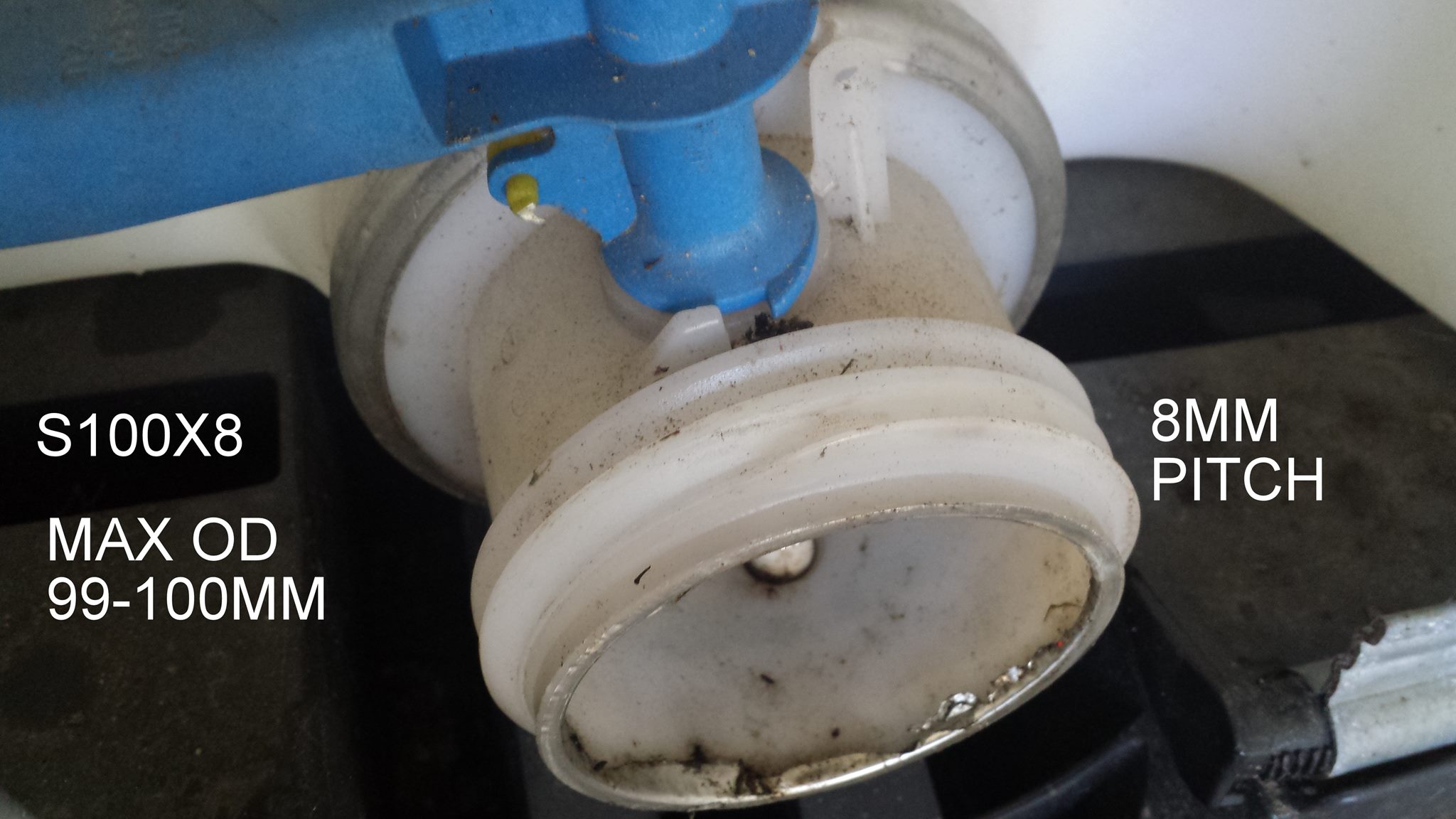 Above: 100mm / 4″ IBC Valve measured across the maximum diameter of the threads. Valve Internal Diam 75mm / 3″ .
Not common, adaptors in stock.
Above: S75 / 3″ Valve, bore aprox 75mm (2.1/4″) Not common at all. Some Adaptors available. as below.
S75 /NW75 to BSP50 adaptor.
The S75 adaptors are made in UK & Australia & are expensive.
Above: S100x8 (4″) adaptor to NW50 &  ACME threads
Size comparison: NW50 on left & S100 hose cap on right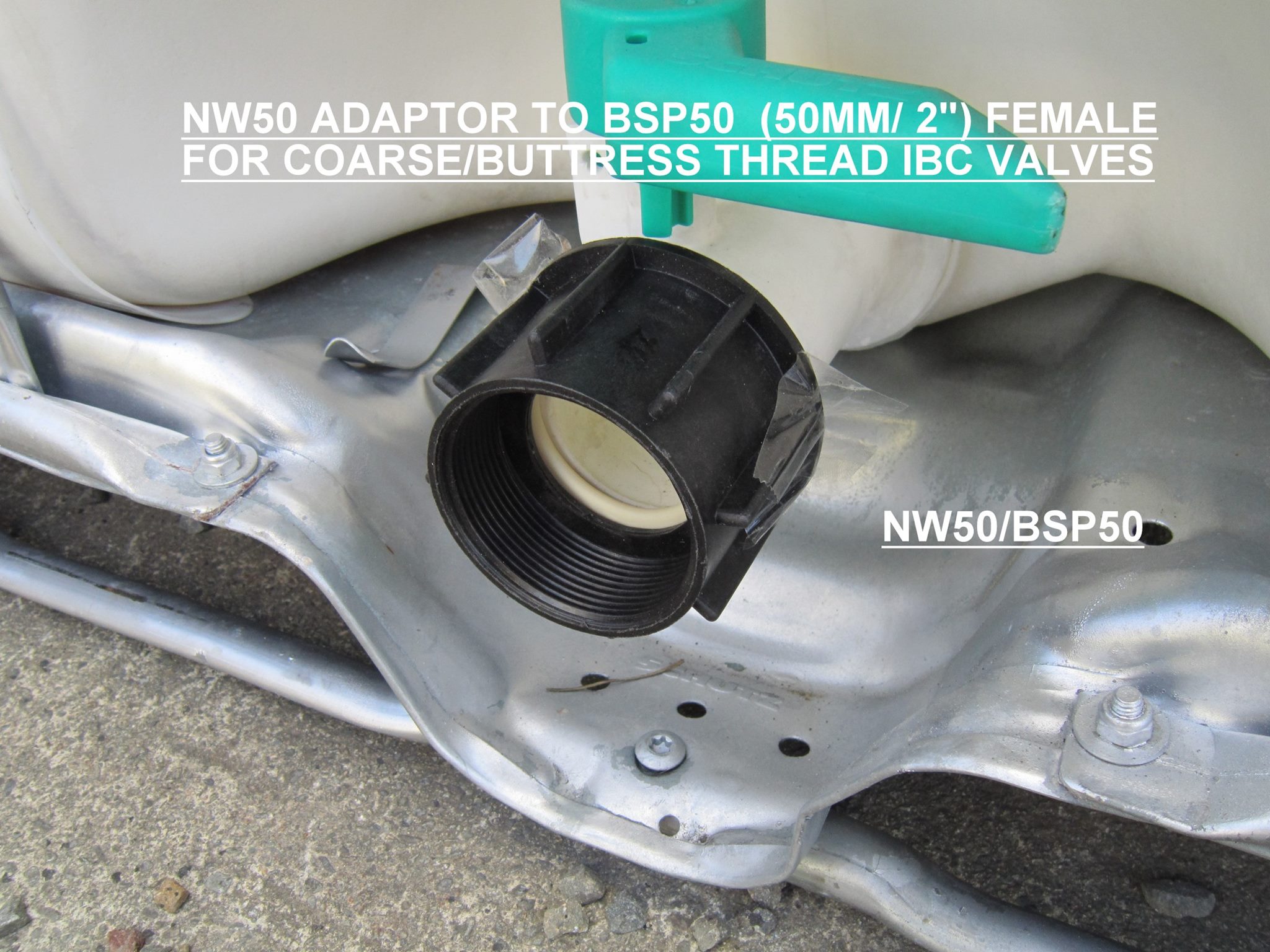 BSP80mm  3.1/8″ aprox max thread diameter, bore 65mm aprox ( 2.5″). Not Common. With Adaptor to NW50.
These adaptors are made in UK & are expensive.
BSP 80 adaptor hose cap.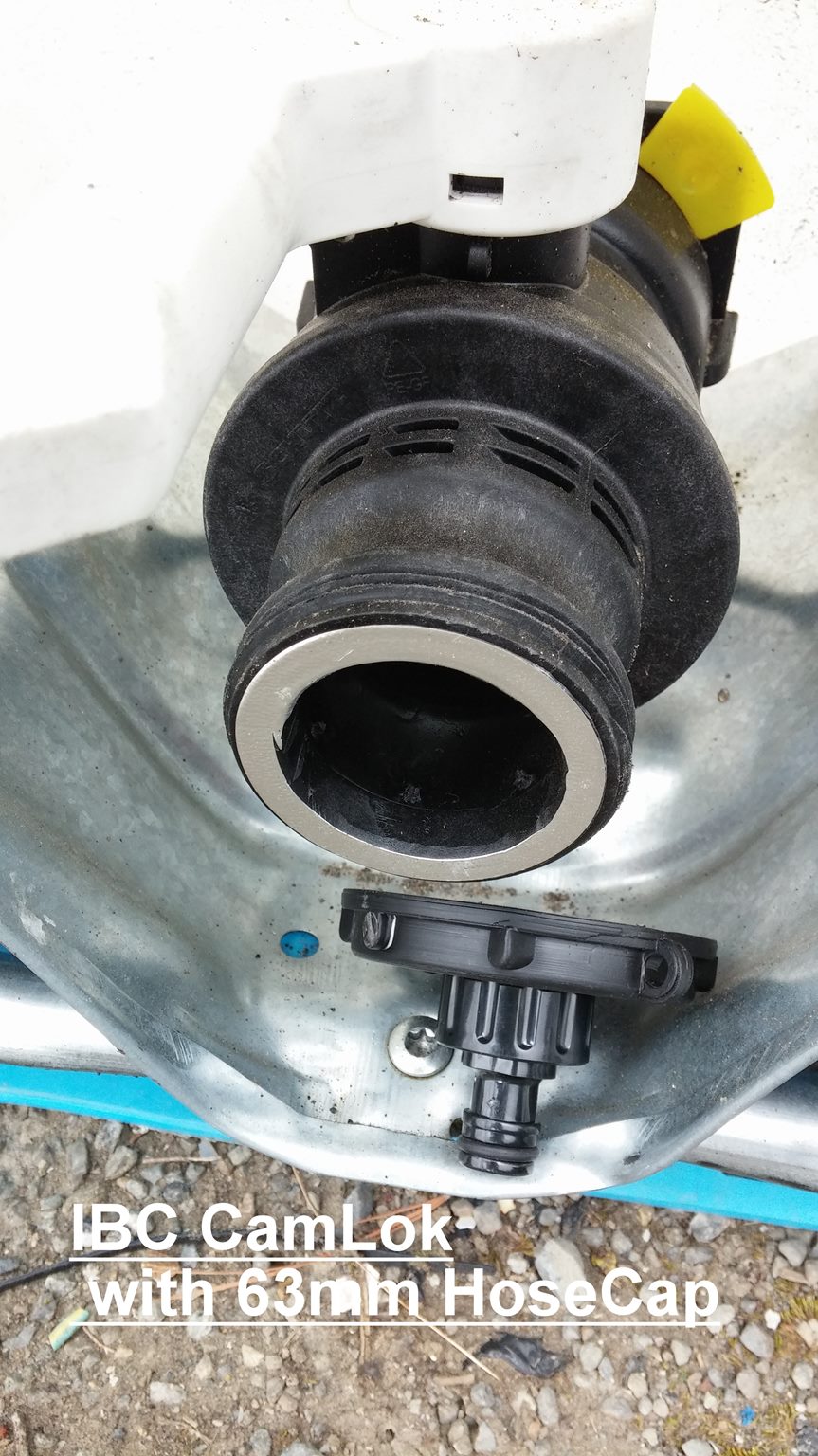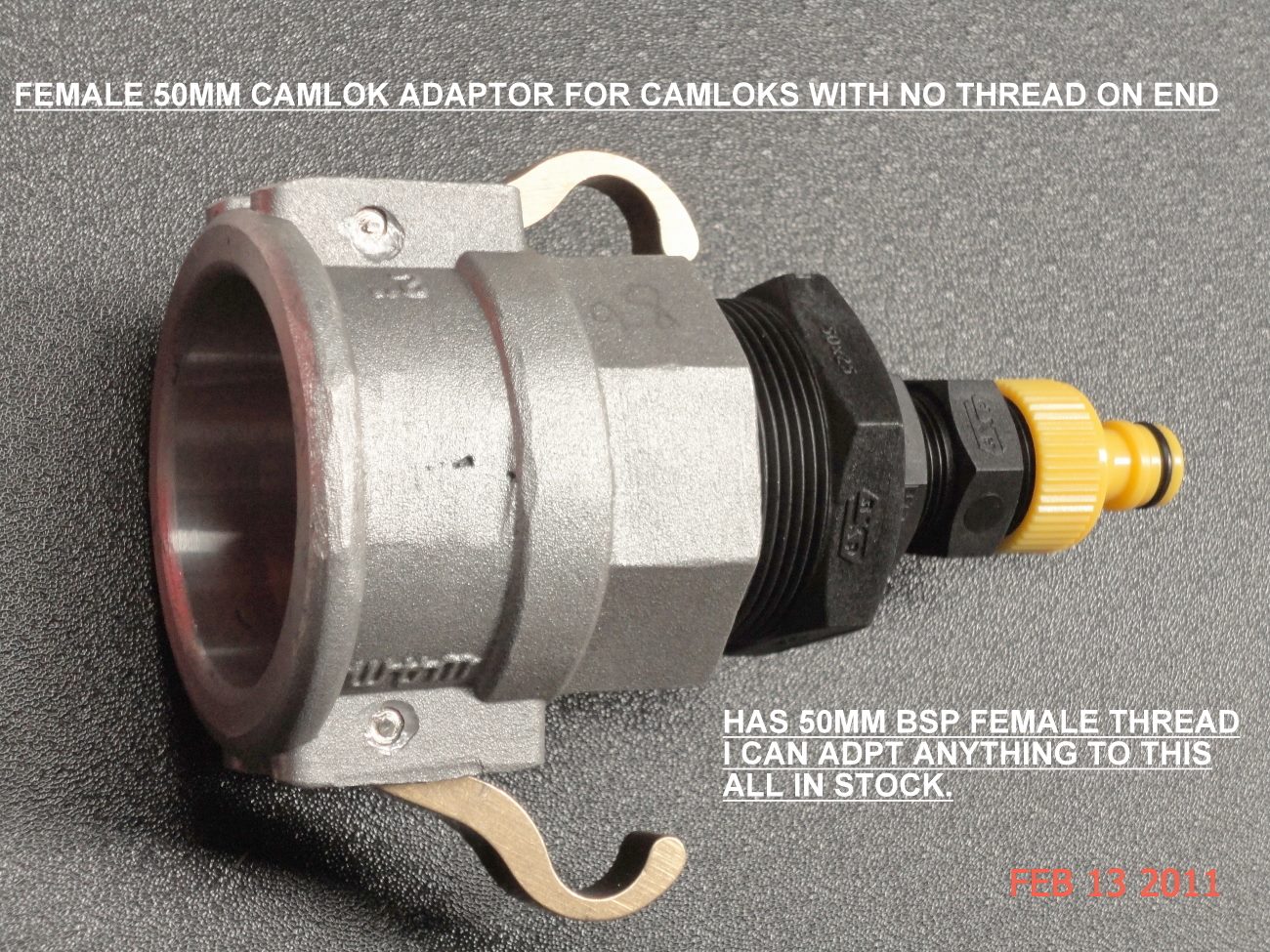 Typical 50mm Male Camlock Valve with no cap thread, these require a female Camlock fitting.
Can be adapted to BSP50.
NW50 adapted to 50mm male Camlock.